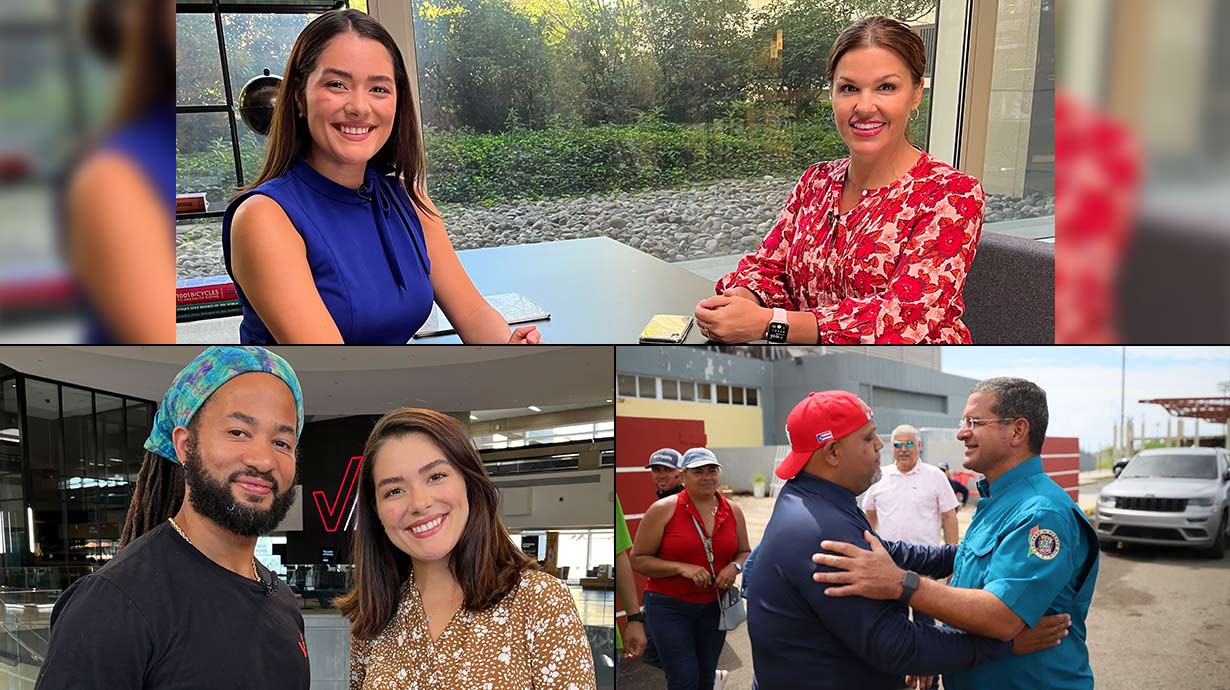 Celebrating diversity and helping those who need it most.
Today, we continue to celebrate Hispanic Heritage Month, commemorated each year from September 15 through October 15. It's a month-long celebration, but at Verizon, we celebrate and honor Hispanic heritage year-round.
On today's episode of Enterate con Verizon, we celebrate and empower women. Latinas are a powerhouse both as entrepreneurs and in the workplace, but continue to be underrepresented in senior leadership positions in corporate America. Host Jennifer Marin sat down with our very own Christina Schelling, SVP of Talent and Diversity, to explore this topic while sharing her own story. We also provided an update on how we are supporting the communities hardest hit by Hurricanes Ian and Fiona.
We're changing the world by not having more Latinas in leading roles
In a very personal conversation, Christina Schelling spoke about her unique background and upbringing, raised in Massachusetts, in a very multicultural region by her Colombian mother and European father. She shared how her unique situation impacted her curiosity about people and culture, and helped her discover who she was.
She talked about often being the only Latina in the room and how it's a privilege that comes with a lot of responsibility and pressure in "being the only person who's supposed to speak or represent a lot. many people – many cultures". Christina shared the importance of "having people who are like you, who you can aspire to be like, who help show you the way and chart that path for you."
When asked what she thinks of the statistic that Hispanic women make up just 1.6% of senior executives at the nation's largest companies, Christina shared, "When I look at our emerging talent, I see the future, and the future looks damn long. better than just 1%"
His advice for putting yourself fully into work… "Push yourself to do it".
Hurricane Relief: Supporting Our Community
Unfortunately, this month has not been all about celebrations. Last month, the Latino community was heavily impacted by Hurricane Fiona and Hurricane Ian. We join nuestra gente in Puerto Rico, Cuba, the Dominican Republic, Florida and the Carolinas in these very difficult times. Verizon has committed $100,000 to the American Red Cross to help disaster relief efforts.
As residents of Southwest Florida continue to recover, Verizon announced it is expanding support to counties hardest hit by Hurricane Ian. Residential and small business customers in the affected areas will continue to receive unlimited calls, texts and mobile data until October 31, 2022.
Our field efforts continue, the Verizon Frontline Crisis Response Team has now deployed over 300 Verizon Frontline solutions, including drones, smartphones, routers, mobile hotspots and portable satellite assets to supporting emergency response operations in the region and 52 governments. agencies.
Watch WAPA América and Televisión Dominicana on Fios
WAPA América, available on Fios 1508 TV channel, and Televisión Dominicana, Fios 1506 TV channel, are Spanish-language TV channels in Puerto Rico and the Dominican Republic, providing up-to-date information on what's happening locally and in the world for its viewers. WAPA América and Televisión Dominicana are still available in Fios TV's Mundo and Mundo Total packages, as well as the Spanish language package and Spanish regional packages.
Following recent events, Fios has announced that its TV customers in the United States can stay informed of the latest news in Puerto Rico and the Dominican Republic with free access to WAPA America and Dominican TV until October 21.
Support our V Teamers and their families in Puerto Rico
The latest hurricanes have affected many of our colleagues and their families, including V Teamer Carlos Esdailes Jr., New Jersey Sales and Customer Service Call Center Supervisor, who was in Puerto Rico with his family when the Hurricane Fiona makes landfall. He shared his first-hand account and how it feels to work for a company that is doing its part to help. "Yo me siento bien orgulloso," Carlos shared. "It's a source of pride that the company you work for keeps its promise to be there for people"
Our hearts remain with all V Teamers and customers affected by Hurricanes Fiona and Ian.