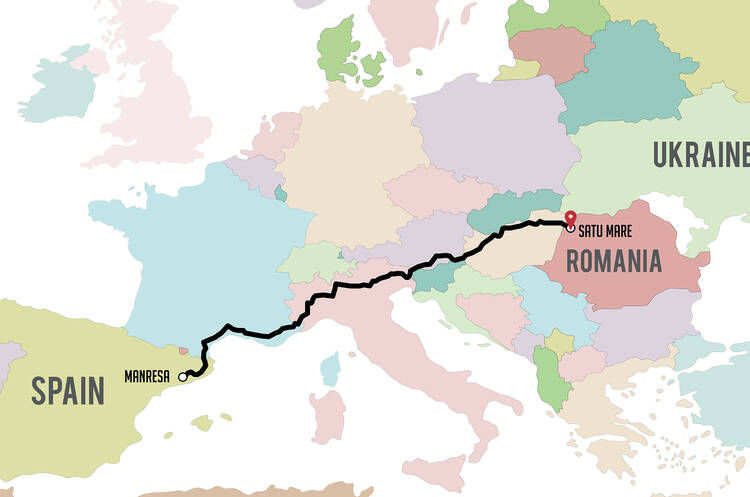 Meet Sister Lucía Caram, the nun who traveled 4,000 miles in one weekend to save Ukrainian refugees
Russian President Vladimir Putin's war against Ukraine has not only caused the deaths of hundreds of civilians, including many children, and the terrible destruction of towns and villages; it has also involved in different ways more than 30 European countries, the United States, Canada, Japan, South Korea, Israel, Turkey, China (to some extent) and other states.
The war has already caused Europe's biggest humanitarian crisis since World War II, forcing more than two million people to seek refuge in other countries. But it has also caused a tidal wave of solidarity across the continent, unprecedented since 1945.
An extraordinary example of this solidarity was the incredible effort made last weekend by Lucía Caram, OP, 55 years old. Saint Ignatius of Loyola wrote the famous spiritual exercises— to Romania's northern border with Ukraine. She went to offer concrete help to the refugees arriving from the attacked country.
Sister Lucía left Manresa at 6 a.m. on March 4 and arrived in Romania the following evening. She immediately went to a refugee camp in the north of the country. The next day, the morning of March 6, she began the journey back to Spain, bringing with her six refugees: three women and three teenagers who had nowhere to go.
Sister Lucia spoke with America via Zoom hours after he returned safely to his convent in Manresa, having traveled 3,725 miles in four days. It's his story.
"I spent restless nights wondering how I could help"
Sister Lucía is a dynamic and contemplative Dominican living in a community that is renewing itself. Her work is very much in the spirit of Pope Francis, who knows her. She has extraordinary organizational skills and is well known in Spain for her aid to refugees and her work to combat child poverty. She is a fan of the Barcelona football team and is a friend of footballer Lionel Messi, who has helped her and many others to support his extensive charity work for young people, families in need and people in need. immigrants.
For four years, Sister Lucía and her community have assisted three Ukrainian families and, more recently, they have taken care of a mother and a child who came from Ukraine. Thanks to these experiences, Sr. Lucía was already well informed about the situation before the start of the war.
The day after Russia invaded Ukraine on February 25, Sister Lucía held a prayer service for peace in the large chapel of her convent. She had expected a handful of people to attend, but there were so many that they couldn't all fit into the church. "The desire for peace was palpable," she said.
On Saturday, February 26, she joined Ukrainian families she knew at a peace demonstration in Manresa.
"We can't just look the other way because peace depends on everyone," she said. "We are all under threat and Ukrainians are our brothers and sisters. Sister Lucía said she was "deeply impressed" by the large crowds who came to protest against the war. He revealed that "people want peace, not war," she said.
"People want peace, not war," said Sister Lucía.
After the rally, she said Inna, a young Ukrainian woman living in Manresa who the sisters are helping, said she was deeply worried about her parents who lived in Kyiv but hoped to flee to northern Romania in the next few days. days ; one of his parents suffers from a serious health problem. Inna asked Sister Lucía if she could get them to safety in Spain.
"I spent restless nights wondering how I could help," Sister Lucía said, "until Wednesday, March 1, when Luis, one of the volunteers helping with the work of our foundation, half-said jokingly: "Lucía, why don't we just go to Romania and bring them back?'"
She thought about his suggestion, prayed and decided to go to Romania to bring back Inna's parents. Early in the morning of Friday, March 4, she began the long journey by minibus, accompanied by Luis, who took turns driving with her.
"A River of Refugees"
When they arrived in Romania on the evening of March 5, Sr. Lucía received a message from the young Ukrainian woman saying that her parents could not leave Kiev because of the shelling in the area. But, she said, she had a friend with a child who had managed to flee the city and was now entering Sighet, a town in northern Romania. Inna sent Sister Lucía pictures of the woman and child and asked if she could bring them instead.
Sister Lucía went to Sighet to find the friend and her child. She searched for them in the refugee camp in the town of Satu Mare, where people were given food, clothes and a place to rest after fleeing the terror of Russian bombs. At the camp, she met Marian, a Romanian who had worked in Spain for 18 years as a carpenter but was now serving as a volunteer, helping refugees. Marian helped Sister Lucía search for the woman and her son among the thousands of refugees in the camp.
In Satu Mare, "I was deeply moved watching a stream of buses bringing Ukrainian refugees, and a river of refugees, arrive on foot, after traveling many, many miles," she said. "They came with little or nothing, clutching their few belongings. They were exhausted. They all looked scared; they were like sheep.
"I will never forget seeing so many men, some young and alone, walking towards the Ukrainian border, carrying a backpack or a bag, with tears in their eyes," she said. "They were coming back to fight for their homeland."
At the camp, she says, "we saw the best of human nature," but she also learned that this war has brought out a darker side: at some entry points on Romania's borders with Ukraine and Hungary, what she described as "mafias" demanded money from refugees to be allowed to enter Romania and Hungary.
At the start of the war, some 75,000 foreign nationals were studying in educational institutions across Ukraine, but their status was disrupted during the war. At the Satu Mare camp, Sister Lucía said she saw a group of 30 medical students from Turkmenistan, as well as people from India and Africa who had residence permits for Ukraine but had no documents. allowing them to enter the European Union beyond Romania. . Their right to asylum not being recognized, they found themselves stranded. "They were the poorest of the poor! she says.
Sr. Lucía also remarked that Ukrainians are "very religious people" and that many religious groups, including Pentecostals and Orthodox, wanted to be close to refugees at this tragic time in their lives.
But "I will never forget seeing so many men, some young and alone, walking towards the Ukrainian border, carrying a backpack or a bag, with tears in their eyes," she said. "They were coming back to fight for their homeland."
Welcome the unknown
As Sister Lucía moved around the camp, Inna's friend Olena Rozhova spotted the nun. She recognized Sister Lucía from a photo Inna had sent her. Mrs. Rozhova ran to Sister Lucía and said, "I love Jesus very much. Sister Lucía was overwhelmed with emotion; she kissed Olena and then kissed Nikita, her 12-year-old son. "It was a great moment," she recalls.
Soon after, Sister Lucía noticed another woman, Irina Antonenko, 39, with two teenage children, Illia, 13, and Alexandra, 14. Ms Antonenko had said goodbye to her husband in Kiev, where he was staying to fight. She didn't know anyone in the camp and had nowhere to go, so Sister Lucía invited her and her children to join the group back in Spain, and Mrs. Antonenko happily accepted. Then Sister Lucía noticed another woman, Alessa, 39, who was visibly sad; she had left her mother in Kiev. She too looked lost, so Sister Lucía invited her to come with her as well.
Sister Lucía now had a group of six refugees. She invited them to board the minibus, and they left for the Hungarian border in the early morning of Sunday, March 6. None of the three women knew each other; they were total strangers to each other and had met for the first time in this tragic situation.
They set out on the 2,000+ mile journey to Manresa but soon ran into trouble at the Hungarian border after being stuck in traffic for more than four hours. Ms. Antonenko did not have a biometric passport for herself or the children; they only had a family identity card issued by the Ukrainian authorities. Sister Lucía tried to convince the Hungarian border authorities to let Ms Antonenko and her family pass. Her patience was tested, she said, but being a nun helped, and she eventually made it. "It was the hardest experience I had on this trip," she said.
En route to Spain, "the six refugees slept the whole way, except when we stopped to eat or go to the toilet," she said. "They came with nothing, no money, and some only had the clothes they were wearing."
The refugees were warmly welcomed upon their arrival at the convent. The sisters of the community of Sister Lucía awaited them with many young people, older volunteers and members of the press. News of Sister Lucía's bold enterprise had traveled quickly.
Sr. Lucía's next step is to work for the integration of the refugees, first teaching them Spanish and then helping them find a home. She said that for the first week the refugees will stay at the convent, and after that she will relocate them to apartments in and around Manresa. News of her initiative sparked an outpouring of solidarity: more than 500 apartments were offered to refugees, along with all sorts of other aid, she said.
Sr. Lucía works with 17 couples of lay volunteers, who will do the necessary bureaucratic work to ensure that the refugees obtain residence permits and social security cards. The European Union has passed legislation guaranteeing Ukrainian refugees residence permits for up to two years, with social benefits.
Sister Lucía Caram, however, does not consider this a moment of rest. She has now partnered with NGOs and a local business. With their help, next Saturday she plans to rent a plane and fly from Spain to Poland to bring another 200 Ukrainian refugees back to Manresa.