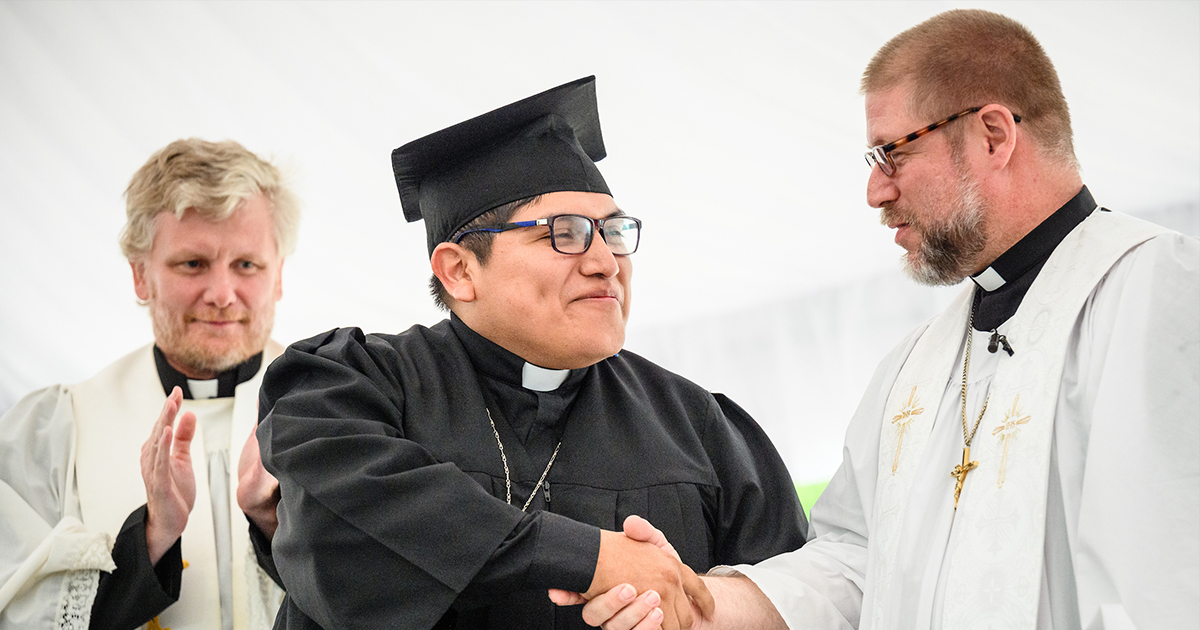 Promoting a Lutheran Identity in Latin America
By Kevin Armbrust
On May 27, three pastors and 12 deaconesses graduated from the Centro de Misericordia y Seminario Concordia el Reformador (Concordia the Reformer Seminary and Mercy Center) in Palmar Arriba, Dominican Republic (DR). Graduates will serve the church throughout Latin America as they travel to Peru, Chile, Mexico, Panama, Guatemala, Venezuela and other countries.
The graduation service took place at the end of a week-long symposium hosted by the seminary.
"One of our goals for a regional residential seminary is to bring our students together around our Lutheran theology to foster their common identity as Lutherans," said LCMS missionary Rev. Joel Fritsche, director of Concordia. "Our annual theological symposium seeks to accomplish this on an even broader level by inviting presidents of partner churches and leaders of theological education to join us for a week. This year, we are honored to play a role in the introduction of the new Spanish language Lutheran hymnwhich we pray, will also strengthen our theological unity and identity in song for years to come.
"God takes you in many ways. … I never thought I would be a pastor. But God led me here out of my country to learn the truth so that I can return to my home country to tell them the truth," said Reverend Jeancarlos Ramírez, who graduated from Concordia after four years of residential study. Ramírez, who will serve the church in his hometown of Lima, Peru, is especially excited to bring the gospel to children and families. "Everything you learn in seminary, it's important to think about how to communicate it to children, to people who don't know it. … [We] don't change the truth, but learn to share it with children so they can understand.
Concordia trains pastors to spread the gospel, plant Lutheran churches and show mercy. It also trains deaconesses to serve alongside pastors to show God's mercy in Christ to those in need and facing difficulties. Deaconess Danelle Putnam, LCMS missionary and associate coordinator of the deaconess program at Concordia, noted that most graduating deaconesses will not be paid. They see their service to the church and to others as their reward.
Rain flooded the graduation facility outside and the wind whipped through the rented tents, which couldn't fully protect everyone from the elements. Yet the Word of God, sent from heaven as rain, accomplished exactly the purpose for which God sent it. Reverend Dr. Gerson Linden, director of Seminario Concordia in São Leopoldo, Brazil, preached to the graduates and all came together to trust and proclaim the one thing this world needs, Christ and Him crucified.
Read more about this event and the work of the Synod in Latin America in an upcoming issue of Lutherans engage the world.
Posted on July 19, 2022