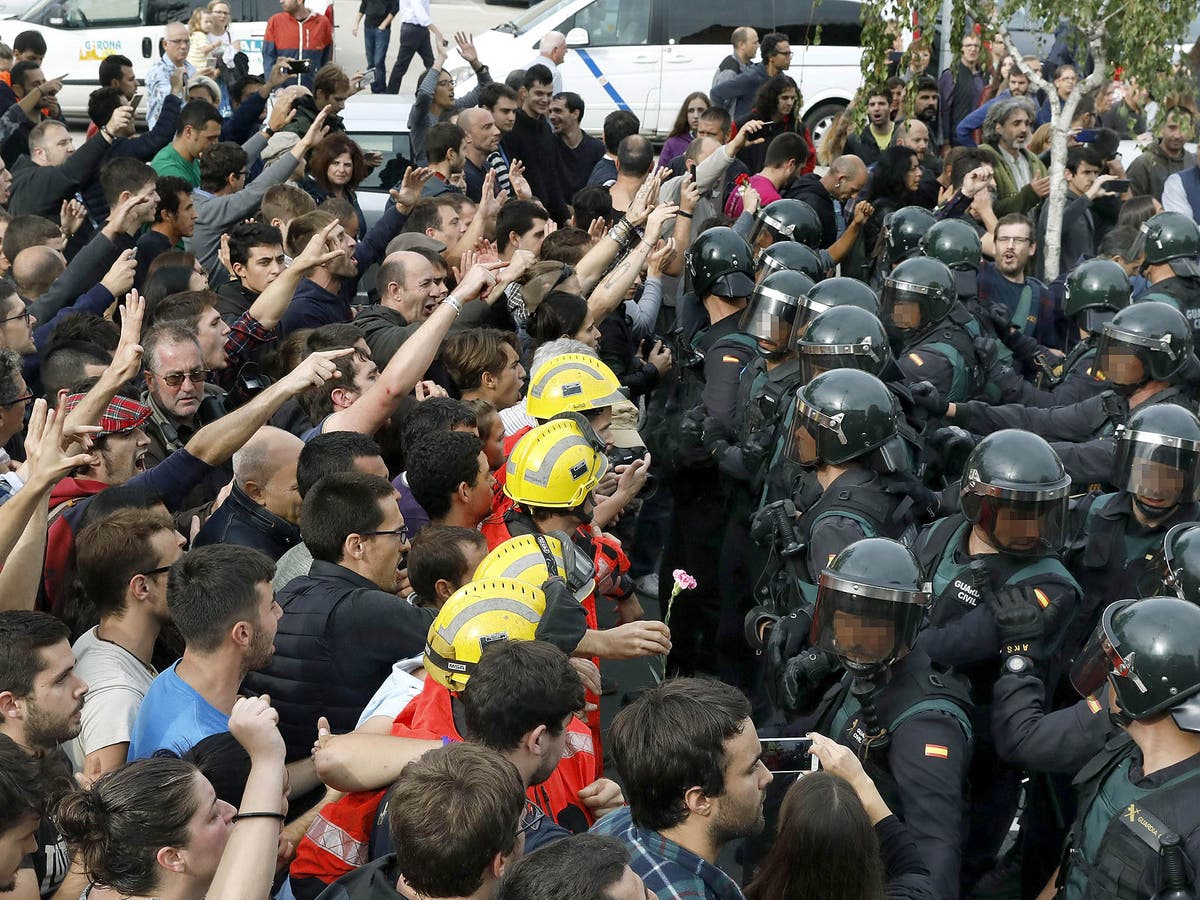 referendum on independence of Catalonia illegal under Spanish constitution, European Commission confirms | The independent
[ad_1]
The European Commission has confirmed that the referendum on the independence of Catalonia was "not legal" under Spanish law.
He described the vote, which saw police beat protesters and close polling stations, as an "internal affair" and suggested he would ignore calls for intervention.
"This is an internal matter in Spain which must be dealt with in accordance with the Spanish constitutional order," said a spokesperson.
"If a referendum were to be organized in accordance with the Spanish constitution, that would mean that the territory which left would end up outside the European Union.
"Beyond the purely legal aspects of this case, the Commission believes that the time has come for unity and stability, and not for division and fragmentation."
The European Commission, which is the EU's executive, called on all parties to "move very quickly from confrontation to dialogue".
Pro-Catalan protesters gather in Madrid square
In what appeared to be a reference to police brutality against voters, a statement said that "violence can never be an instrument in politics", adding: "We trust the leadership of Prime Minister Mariano Rajoy to manage this process. difficult with full respect for Spain. constitution and the fundamental rights of citizens enshrined therein.
The referendum has no legal status after being blocked by the government of Madrid and the Constitutional Court for being in contradiction with the constitution of 1978, which states that Spain cannot be dismantled, and there is little to signs of support for Catalan independence in any other part of Spain.
Catalan leaders had called on the EU to intervene following clashes that left nearly 900 injured on Sunday, including two in serious condition.
The United Nations called on the Spanish authorities to respect the rights of the Catalan people to freedom of expression, assembly and voting, and to show "the greatest restraint".
But footage showed voters beaten with batons and dragged out of polling stations as dozens were closed.
Riot police fired rubber bullets as they made their way through centers and confiscated ballot boxes in footage that sparked widespread condemnation.
Nicola Sturgeon said she was concerned about the footage, adding: "Regardless of the perspective on independence, we should all condemn the scenes we are witnessing and call on Spain to change course before anyone else. 'one is seriously injured. "
Belgian Prime Minister Charles Michel tweeted: "Violence can never be the answer! We condemn all forms of violence and reaffirm our call for political dialogue. "
"We urge all parties to exercise the utmost restraint and avoid all forms of violence. "
Catalan officials said 90% of voters chose to leave Spain, but Madrid ignored the result after declaring the referendum illegal and repeatedly vetoing independence.
Jordi Turull, spokesman for the Catalan government, accused the police of breaking agreements with the local security council, but said the brutal response had "encouraged us even more".
"The state has tried to crack down on democracy," he added. "It was like holding a referendum in the middle of a dictatorship."
Catalan President Carles Puigdemont hailed a "moment of great importance" for the region and praised the "courage and bravery" of voters.


Catalonia independence referendum: riot police confront voters
Show all 17
The leader accused the Spanish authorities of an "absolute denial of reality… and of obvious hostility" towards Catalonia's long-standing aspirations for independence.
Oriol Junqueras, the Catalan vice-president, said that Catalonia had "earned its right to be a new republic, if that is what parliament decides", with the local government having more than 2 million "yeses" and 176,500 "no" out of 2.26 million ballots counted.
Mr Rajoy, Spain's prime minister, faces the country's biggest constitutional crisis in decades if Catalonia opts for secession.
He proposed to call for multi-party political talks to "reflect on the future" of Catalonia, but maintained his categorical rejection of independence as an option
"I propose that all political parties represented in Parliament meet and together reflect on the future we all face," the Prime Minister said in a televised address.
He has the constitutional power to dismiss the regional government and put Catalonia under central control pending new elections.
Mr Puigdemont called an emergency meeting of the Catalan regional government, while Mr Rajoy planned to coordinate next steps in a meeting with Pedro Sanchez, leader of the socialist opposition.
[ad_2]