The war in Ukraine, seen through the eyes of a 10-year-old child | International
Children usually feel uncomfortable when their mother cries. They don't know how to react. They contort their faces into forced smiles. Viktoria is different: she caresses her mother's hand when her eyes look up. The woman cries because her 10-year-old daughter has just explained to journalists from EL PAÍS that what she will miss most are her grandparents. They are sitting on a bench at a train station in Lviv, western Ukraine, 800 kilometers from their home. Their city, located in the province of Kharkiv, is now on the front lines of the war. They have been traveling for two days, and they still have one more before arriving at the border with Poland. Viktoria's father, who works in Warsaw, is waiting for them there.
Among the more than one million Ukrainian refugees who have already fled the war, tens or even hundreds of thousands of them are children fleeing hand in hand with their mothers. Many more are hiding in shelters every day or suffering in besieged cities like Mariupol. Cases like Viktoria's show how the horrors of war unfold before the frightened eyes of a child.
The cold is unusually harsh this Saturday in Lviv. Viktoria pulls her hat, branded with a TikTok logo, just above her eyes. Vlad is 11 years old and also comes from Kharkiv. He had time to fill his backpack with his mother's shirt, pants and food. His most important possession is a blue round monster toy: his father gave it to him when they said goodbye at the Kharkiv train station. "I lost him on the train and cried a lot," says Vlad. "But in the end, we found it." At Lviv station, Vlad, Viktoria and her sister Juliana are strangely calm. "It's because we cried a lot when the train left," says Juliana. "Because we knew they were going to bomb our town."
Eight-year-old Stanislava and nine-year-old Vladislava are friends who reunited in Lviv after being neighbors in Kiev. Stanislava heard the first missiles falling in the Ukrainian capital while she was at school. "We were all inside the shelter and we were really scared," she explains. In a calm voice, she admits that she too felt embarrassed: she didn't dare break the silence to tell the teacher that she needed to pee.
Meanwhile, in the wedding hall of a hotel in the Romanian town of Suceava, 13-year-old Dina Vok sits on a mattress, surrounded by hundreds of people, all of them refugees like him who have left across the Romanian border. Dina is the kind of person who keeps everything inside. Together with his aunt and cousins ​​he came from the city of Vinnytsia. He leaves behind his father, a soldier, as well as his mother, who is a nurse and felt morally obliged to stay.
To fight her boredom, Dina listens to music, plays with her cousin and uses games on her mobile phone. He stopped checking TikTok because, he says, "it's full of Russian propaganda." Just over a week ago, he had frequently checked the app to stay calm. His mother had woken him a few hours earlier, just as the invasion had started, and told him bluntly that he had to leave because Russia was bombing their country. "I was very scared. I started packing the clothes she told me to take," he says. When the car got stuck in a huge traffic jam on the way out of town, he focused on checking his phone."I kept watching TikTok, Google News and Telegram to find out what was going on," he says.
He understands that "it's real, not a dream", but his green sweatshirt, printed with the word "Positive", sums up his philosophy of life. "I'm fine here. I can eat and stay warm," he insists, but when someone mentions his parents, it's clear what's going on in his head – and what he's struggling with. keep indoors.
"What does war mean to you, Dina?" »
"When a country kills people from another country because it is greedy."
Now they are heading to Bucharest so that his mother, who is leaving via another border, can give him "a hug" before returning to Ukraine. He will go to the United Arab Emirates, where his grandparents live. "It will be really nice. Like school holidays. And it's hot there.
From where she sits cross-legged, 14-year-old Sofia Holodalina jumps for joy when the reporter approaches, even though she thinks "newspapers are for old people". It's the funniest thing that's happened to him this week. She arrived in Romania a few hours ago from Zaporizhzhia. That day, the place made the headlines: it houses the largest nuclear power plant in Europe and was taken by Russian troops.
She laughs when her mother explains to her that they had planned to visit her sister in Torrevieja, in the Spanish province of Alicante, in the second half of 2022, but the war forced them to move forward with their travel plans. . "Thank you, Putin, for the favor! said Sofia, dressed in a tracksuit, with a mischievous smile. And when the journalist tells her that there is a beach in Torrevieja, she smiles and looks in another direction. "I think I will stay in Spain. I don't think I want to go back to Ukraine just to see how it's rebuilt, how they're rebuilding everything from scratch.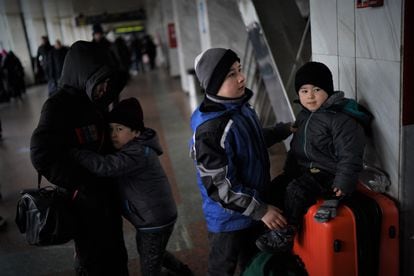 In Kiev's crowded and chaotic train station, one of the places that serves as an escape route from the conflict, Islam, 12, keeps an eye on his younger siblings, Ilias, 7, and Yasin, 4. . They gather around a large orange wheeled suitcase among hundreds of people. They are accompanied by their mother, Kamala, 28, who does not speak Ukrainian and lets her eldest son communicate with the journalist. Islam's father, Ali, 35, will accompany them to the border and then return to Ukraine. For this Uzbek family, who arrived in Ukraine four years ago, it is time to emigrate once again. The boy remains resolute and confident amid the whirlwind. For them, at least for now, the time of studies and attempts to integrate in a country far from Uzbekistan is over. Streams of people, foreigners and Ukrainians show up every day trying to secure a place on one of the trains leaving for Lviv. They reach the top floor through the station concourse, and after confirming that the next convoy west leaves from Platform 10, they head straight there, on their way to their new lives.
At 6am on Friday, 11-year-old Nika left her home in Odessa alongside her mother, two of her sisters and their dog. Six hours later, they crossed the Moldovan border by car. In the shop where tea and sandwiches are offered to new arrivals, they were waiting for a cousin to take them to Chișinău, the capital, where they will stay with him for "a week". Nika is about to turn 12 and she hopes to be back by then. "She cries all the time because her best friend has gone to Poland and won't come back. She will stay there for school," her mother said. The girls correct their mother's English, laugh and quickly become captivated. "We wanted to go there. It was really scary. It took us an hour to cross the border," says the older sister, who doesn't speak much more English. "I'm fine," says Maria, who is the youngest sister at nine. She grabs a stuffed animal and continues to play on her tablet among the family's suitcases. The others take turns looking at the phone and holding the dog in their arms. Their lips are all chapped from the cold.