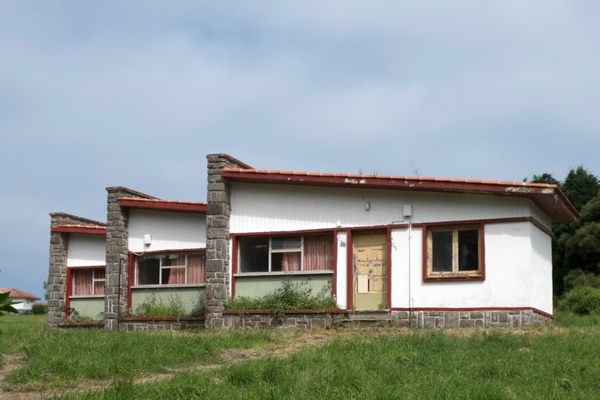 This abandoned Spanish resort is still a popular holiday destination
Approximately 150 distinctive mid-century buildings standing in various states of disrepair on the stunning Asturian coast in northern Spain. The structures are contained within a 50-acre unfenced area that opens onto three beaches separated by jagged green cliffs. This is what remains of Perlora Ciudad de Vacaciones (translation: Vacation City), a holiday resort built by the Franco regime so that workers from all over Spain could enjoy subsidized vacations by the sea.
The complex officially closed in 2005, just over five decades after it was inaugurated by Spain's fascist dictatorship. Since then, several buildings have collapsed or been demolished. Botanical gardens gave way to thorns. But when the sun shines and summer sets in, this surreal ghost town bursts into life.
A few families are so fascinated by the place that they have colonized the exteriors of specific villas. They continue to return to the small houses where they spent the summer, sheltering from the sun or the rain under tilted overhangs. A couple even planted a garden.
"It's like people praying in front of a ruined cathedral," says Adrián Cachán Vallina, an architect who spent his childhood summers at the resort. As an adult, he measured each building one by one so he could craft his vision to find out how the vacation town could be revitalized.
Within a 30-minute drive of Asturias' three largest towns, the decaying retreat is also filling up with less dedicated visitors — beachgoers; those who use the space for barbecues, birthday parties and baptisms; and groups of young people meeting over drinks. Its football pitches and tennis courts are still in use, although the playground is full of nettles.
Others, like Merche García Junquera, a resident of the connecting town of Perlora, from which the vacation town takes its name, stroll through the ramshackle resort town. "Every day, my body brings me here. But knowing how beautiful everything once was… seeing it now kills me. The only thing that's not spectacular is the state it's in," she says.
García Junquera, a retired teacher and current president of the Perlora neighborhood association, says she wanders the grounds taking photos of trash, "alternative bathrooms" and decay, joining them with complaints that she regularly sends by e-mail to the regional government, which owns the complex.
"What I want? First, I want it clean. Then, to see it reactivated. The government has drawers full of projects and ideas, "explains García Junquera. "It makes no sense to leave a such a wonderful place falling into ruin."
García Junquera, who married in the brutalist church of the vacation town, officially submitted a project to restore the vacation complex, like many others. Her project includes a spa, swimming pool and renovated buildings to bring tourists back, but she says she doesn't really care what will happen to the space as long as it is conserved and reopened.
Almost everyone who visits the holiday town has an idea of ​​what it could become: a space for construction, art and architecture workshops, a museum, holiday rentals, a congress center , a student residence or a center for the elderly. There is a online petition urging the government to save it from oblivion. Private bids to turn it into a glamping resort or hotel have also been publicly considered. But every proposal has stalled or failed.
Although reviving the vacation town would be expensive and the law says it must remain accessible to the public, the prevailing theory as to why the left-wing regional government is letting it collapse has to do with its Francoist roots. .
---
Perlora Ciudad de Vacaciones was a project of the Spanish Trade Union Organization – the only legal trade union under the Franco dictatorship, which included all companies and all workers. For the fascists, the class struggle was considered the source of all conflicts. That's partly why the regime-controlled union has tried to appease workers with initiatives like vacation towns, says historian Carmen Belén Tuñón Vega, who is writing her doctoral dissertation on vacation towns. Francoists at the University of Oviedo.
The Perlora complex was inaugurated in 1954 and was open to workers and their families from all over Spain. Companies, mostly state-owned, could rent the villas and raffle off subsidized 15-day stays including full room and board for well-behaved employees. Other workers like fishermen and farmers who belonged to guilds also had the option of staying in the hotel-like residential building, which was demolished when the complex closed.
"It was a double-edged sword. The regime sought to control free time and promote certain values, much like the offices of Google today," explains Tuñón Vega. "But the happiness and well-being that it meant for the workers who vacationed there are not obliterated by this intention."
When the complex opened, Spain was extremely poor. Perlora Ciudad de Vacaciones had paved roads, running water and electricity – new to many. In its heyday, the vacation town was "super chic", according to Tuñón Vega, "a luxury resort before it existed". For many workers and their families, it was the first time they had taken a vacation, the first time they had seen the sea. For women, it offered a rare respite from cooking and cleaning.
During its early years, says Tuñón Vega, the complex operated more like a military camp. The Spanish national anthem was played over loudspeakers, there were flag-raising ceremonies, and the structure of activities was more hierarchical and rigid. But in 1959, after members of the Catholic sect Opus Dei seized power from the more hardcore European fascist group El Phalange, the experience began to soften and the focus shifted from militarization to values. family.
In the 1960s and 1970s, the vacation town reached its peak. It welcomed up to 2,000 people every fortnight from early June to mid-October. There was a cinema and hair salons, and one of the dining rooms has been converted into a part-time party room. It employed around 200 workers, many of whom fell in love with the locals and stayed in the area.
Already, the boldly modern architecture of the complex, albeit with some obvious nods to the Asturian vernacular, broke with the fascist classicism that defined the regime's earlier architecture (see: Valley of the Dead). Construction of the station was overseen by the Somolinos brothers, two of the most prestigious architects working in the region at the time.
"It really is a treasure," says architect Cachán Vallina. "Mid-Century Modern architecture is beginning to claim more prominence. And this place is quite exemplary because the architecture has hardly been affected.
After Spain's transition to democracy, the complex was handed over to the regional government of Asturias in 1982. Although it continued to be offered to unionized workers, the complex slowly declined until all of its doors geniuses are finally locked in the middle of the years.
The left-leaning regional government, which declined to comment for this article, is still paying for the station's basic maintenance and security. In a letter responding to one of García Junquera's complaints, he acknowledged that Perlora Ciudad de Vacaciones is "a focal point for hundreds of visitors", but blamed "the behavior of seagulls" for much of the current disarray .
"Their inaction is more ideological than logical," Cachán Vallina said. "My biggest fear is a house falling down and hurting someone and then destroying everything."
But as Perlora Ciudad de Vacaciones hovers on a fleeting plane between fantasies of its past and future, some embrace its precariousness. Besides the nostalgic regulars, it has also become a space for artists. For example, Rodrigo Cuevas, the Asturian answer to Freddie Mercury, used the abandoned complex as a backdrop for a surreal spectacle Musical clip. In June 2022, the artist Olmo Cuña started a performance art exhibitionfilmed with a Super 8 camera, about his interactions with the vacation town.
"My original intention was related to a place in ruins," he says. "But after spending time here, I realized there was still so much life in Perlora, so I made the room speak to me by using the space as if it were my own. .Love the attitude of people coming to sunbathe on the porches as if they were at home.It's a shame it's derelict but it also gives the opportunity to use it however you want.