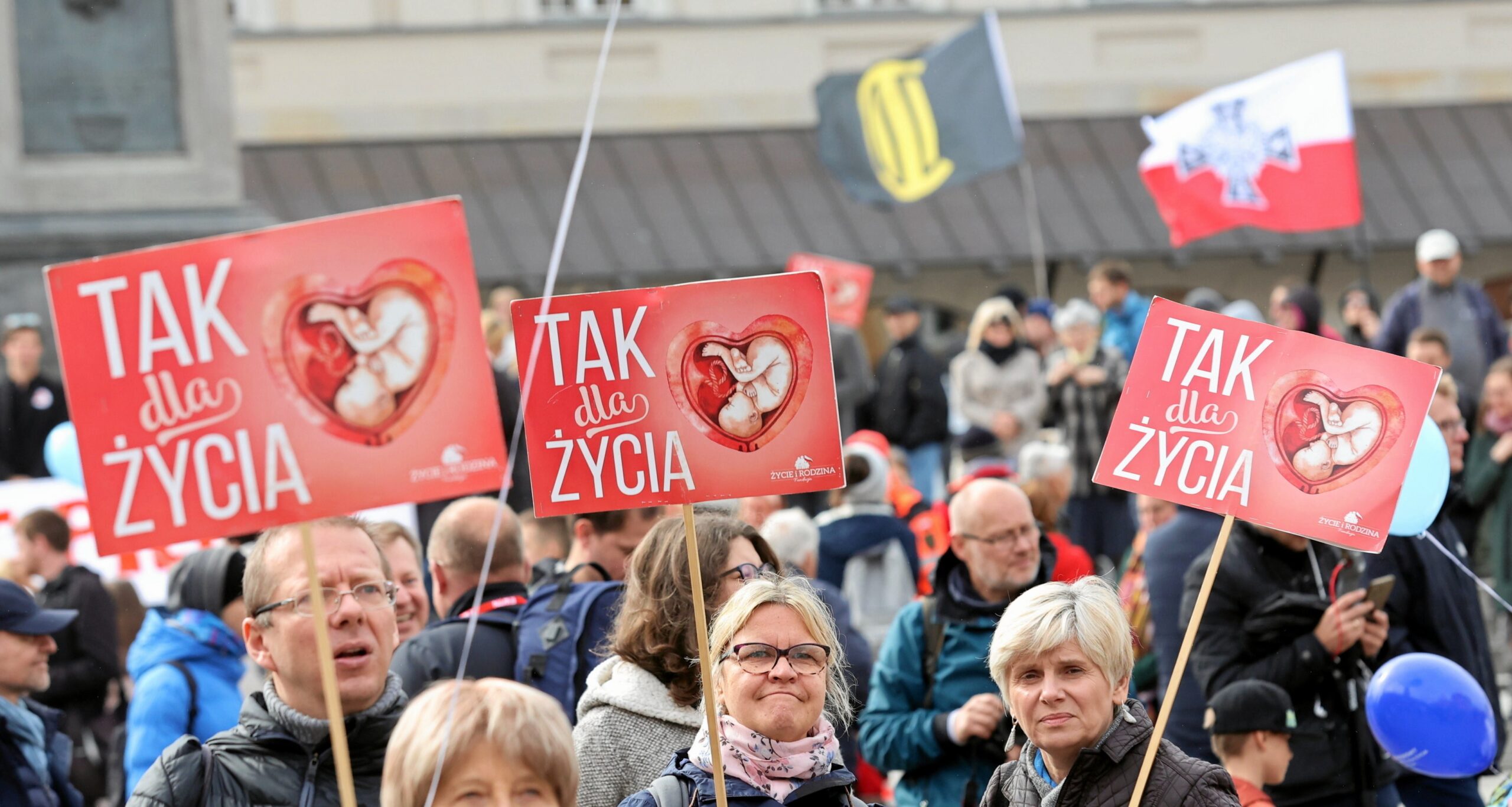 Thousands join pro-marriage march in Warsaw as president sends message of support
Thousands of people took part yesterday in the annual March of Life and Family in Warsaw, dedicated this year to supporting the institution of marriage. President Andrzej Duda sent a message of support to participants and organizers.
"Contemporary cultural models increasingly portray marriage as a non-binding and temporary agreement, which is why during this year's march we want to remind people of the value of marriage," said the lead organizer, Paweł Ozdoba, adding that the march also underlined that "marriage is a union of a woman and a man".
A quarter of children born out of wedlock in Poland as Poles marry later or not at all
"Life, marriage and family…are core values ​​for our society, somehow inscribed in the genetic code of our nation," he told the weekly. Do Rzeczy. "Marriage is worth fighting for, trying to maintain."
Protesters held up banners saying "Have patience, fight for love" and "No more children!" Fewer divorces! ", reports the Polish Press Agency (PAP). Other signs expressed their opposition to abortion, and participants carried a 100-meter-long Polish flag.
As the motorcade passed the presidential palace, a large screen showed Duda thanking the participants for creating a "joyful community" and for "your commitment to the highest ideals, for the belief that a strong family is the prosperity of our country".
Many participants were families with children. However, some more extreme elements were also visible, including people wearing the logo of the "Soldiers of Christ" (Żolnierze Chrystusa), a group founded to protect "Europe from an invasion of the followers of Islam".
One group held up a banner identifying themselves as members of Third Position (Trzecia Droga), a far-right group whose website praises historical fascist figures such as Belgian Nazi collaborator Léon Degrelle and José Antonio Primo de Rivera, founder of the Falange party in the 1930s. Spain.
The Life and Family March, which first took place in 2006, organizes similar parades in more than 100 other municipalities in Poland. Ozdoba's organization, the Center for Life and Family, estimated that more than 10,000 people attended the event yesterday in Warsaw alone.
Main image credit: Kuba Atys / Agencja Wyborcza.pl
Daniel Tilles is editor-in-chief of Notes from Poland. He has written about Polish affairs for a wide range of publications, including Foreign Police, POLITICO Europe, EUobserver and Dziennik Gazeta Prawna.